S-12 Red Chilli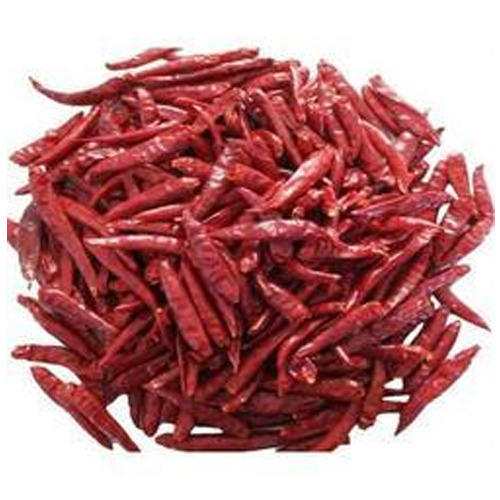 S 12 Red Chilli
Botanical Name
Capsicum annum L., Capsicum frutescens L.
Family
Solanaceae
Commercial Part
Green as well as ripe and dried pod (fruit)
Description
S-12 Red Chilli
supplied by us is procured from reputed & well managed Indian farms. S 12 Chilli is grown in the fertile lands of Madhya Pradesh and Maharashtra states of India.
Origin and Distribution
S12 Red Chilli is majorly cultivated in fertile lands of two states in India. These are Madhya Pradesh and Maharashtra. S12 has gained lots of popularity in the past 3 years in International market due to its buyer's preference and its appearance like S17 Teja. The main reason of preference of S12 is the lower price and better flavour as compared to other chilies. The annual production of S 12 Chilli is 30,000 metric tons. The harvesting seasons of S 12 Chilli is October to February. S12 Red Chilies has a significant factor of produced stemless by nature i.e other chillies has to be made stem less by manual workers but whereas S12 Red Chillies comes naturally without stem. Hence it is quiet convenient for exporters to export and also it is comfortable for worldwide importers to import because they are able to get speedy shipments.
Uses
Due to high pungency, aroma & color S 12 Chilli is very much suitable for Indian, Chinese, American, European, Thai, and Italian & Japanese Cuisines. The curry made in S 12 Chilli not only looks rich but also gives mouth watering peppery Flavor. It is also used for the extraction and derivation of capsaicin.
It can use for as following
Red Chilies powder
Chilly oil
Chillie Capsicum
TYPES
S12 chilies with stem
Stemless red dry S12 chilies
Crushed S12 dry red chili flakes
Dried red S12 chili pepper powder
Indian Name of Spices
Hindi : Lal mirch
Bengali : Lanka, Lankamorich
Gujarati : Marcha
Kannada : Mensina kai
Malayalam : Mulaku
Marathi : Mirchi
Oriya : Lanka
Punjabi : Lalmirch
Tamil : Milagay
Telugu : Mirapa kaya
Urdu : Lalmirch
Foreign Name of Spices
Spanish : Pimenton
French : Puvre de Guinee
German : Paprika
Arabic : Filfil Ahmar
Dutch : Spaanse Peper
Italian : Peperone
Portuguese : Pimento
Russian : Struchkovy pyeret
Japanese : Togarashi
Chinese : Hesiung Yali chiao
British : Chillies(Hot) Pepper(Sweet)
Why Us
We supply you with the best quality Red Chilli at reasonable prices. we are really flexible when it comes to your customized requirement. We can supply you with the Best, Medium-Best, Medium or any other quality Red Chilli contingent upon your budget We also Offer select Red Chillies for the woldwide Markets. Regarding your prerequisite we can supply stemless chillies of Red Chilli variety with customized product packing. We have a specialized team waiting to serve you with the best we could offer. Please contact us through online talk box or order for quotation and we will revert to you with a prompt response.
We are leading Indian exporters of Chilly Whole, Chilly crushed and Chilly powder to countries like Saudi Arabia (KSA), United Arab Emirates (UAE), Malaysia, Brazil, Germany etc.
Product Specifications
Product Name: S 12 Chilli
Type: Available with stem & without stem
Moisture: Below 12%
Length: 5 to 7 Cm (without stem)
Pungency (Heat): 50000 SHU to 60000 SHU
Color: 60 ASTA - 80 ASTA
Form: Dried
Shelf Life: Long
Borken with Stem: 3% Maximum
Broken without Stem: 3% Maximum
Discolor with Stem: 4% Maximum
Discolor without Stem: 4% Maximum
Skin: Thin
Shelf Life: Long
Terms
Minimum Order Quantity: 10 Bags
Packing: New Jute Gunny Bags
Packing Weight: 25.00 Kg or as per buyer's requirement
Delivery Terms: FOB,CIF
Delivery Time: Prompt Delivery
Payment Terms: T/T, L/C or Advance